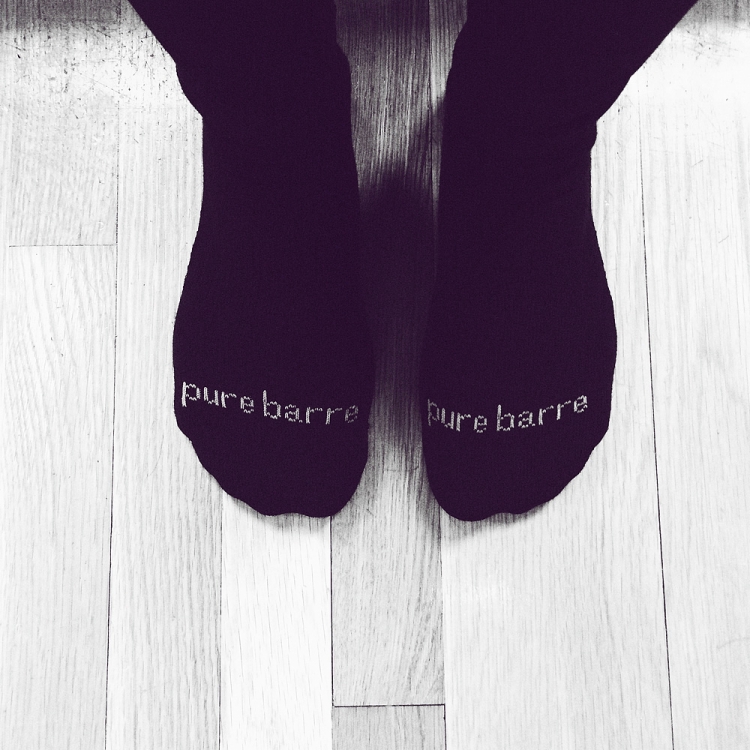 Back from my 1st Pure Barre class and wow, that was a challenge! I first heard about Pure Barre about a year ago from one of my friends who was going religiously before her wedding. I don't have a studio right near me so I didn't think much of it again. Fast forward to the Boston Bloggers Spring Meet & Greet at Highball Lounge last month. Jodi was there selling raffle tickets to support the MS Challenge Walk. Kate was manning the door so she asked me to buy some tickets for her (and naturally avoid all the exercise prizes). I spotted the Pure Barre bag and decided to buy a few tickets to support a great cause… and then I won!
Now, I wasn't in tip top form today as I had a training session at GISFW yesterday and did a spin class at The Handle Bar Fenway last night (another post to come on that!). So I was a little hobbley to start off with. My first impression of the studio was great – when I called to setup my account the girl on the phone was super friendly and helpful. I love that I can schedule the classes online/in app- very handy especially as my schedule changes frequently. When I walked in today the studio lobby is adorable and the girls at the front desk were really nice. I put on the special grippy socks, tossed my stuff in a locker, and gathered my ball and weights.
The class started with a warm up – I'm glad I wasn't in the front since I didn't know the routine and had to look at the other girls to figure stuff out. So far so good. Then we got to the 90 second plank! Spoiler Alert- I can't do that yet. I can barely do 35 seconds at the gym (and when I started I could only do like 10 seconds so I'm pretty proud of those 35!). My favorite part was working on thighs at the bar – I could really feel it and they aren't kidding about the shake! My least favorite part was the abs – mostly because I couldn't hold the positions. I'm relatively new to a more active lifestyle and basics like pushups and sit-ups are still a challenge for me. So combining core work with tucking and lifting your leg up an inch down and inch was really hard. Of course, I wasn't expecting this to be easy! Overall the class was really challenging, but not heavy breathing cardio type of challenging. Basically my muscles just felt like they could give out at any second. Lots of pulsing and micro movements on the verge of a permanent charlie horse… but in a good way? Tough to explain. My instructor Angela was really helpful and came over several times to adjust me and help me into the correct positions – so nice to feel like she had my back at my first class. The good news is the 55 minute class went by really quick! 
Afterwards I hit up the Starbucks downstairs (negating any calorie burn but hey its Friday) and there was a nice girl from class that said by your 3rd time it gets easier so thats comforting. Only time will tell to see if there will be any physical changes- hopefully combining Pure Barre a couple times a week with my regular training and cardio will have me seeing some results by July- gotta fit into that shower dress I have picked out from Rent the Runway!