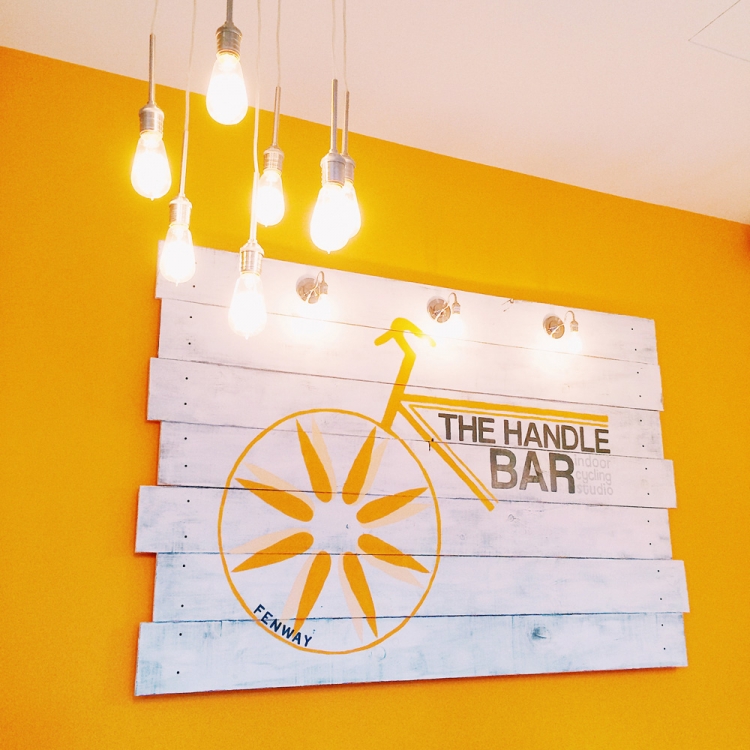 Well I certainly got in my exercise last week (which paid off on the scale today, yippee!). Thursday I had the opportunity to try out a spin class at The Handle Bar Fenway when the owner Jess so graciously hosted the Boston Bloggers. Now, I had tried out a spinning class or two a few years ago for a group ex class at another gym – but they certainly did not focus on spinning exclusively. First off, the studio is adorable – bright and modern which sets a great tone for your workout. The classroom itself is pretty dark when you're spinning so you don't have to worry about anyone seeing how sweaty you are which is always a bonus! I was a little nervous when I saw there were special shoes to use on the spin bikes but I actually came to really like that – I felt much more secure on the bike all clipped in.
Most of our group were newbies so Jess went over the basics – hand positions and terminology as well as some of the choreography moves we'd later be adding to our workout. The music selection was great (especially the throwback Desirae song, I so respect that) and Jess' energy level was very motivating (and yet slightly irksome – how does she have so much energy when I'm over here dying?? haha)
I was so surprised when 3/4 of the way through class we took out a weighted bar and did some arm movements while on the bike – what a great way to make it a total body workout! The only downside to spinning for me is the actual pain in my ass the next day – ouch I felt bruised from the seat! Next time I'll be rocking my padded shorts with pride 🙂 All in all it was a great workout, definitely sweaty, and I'm so glad I gave spinning another chance. I'm sure I'll be back for a class or two before September!