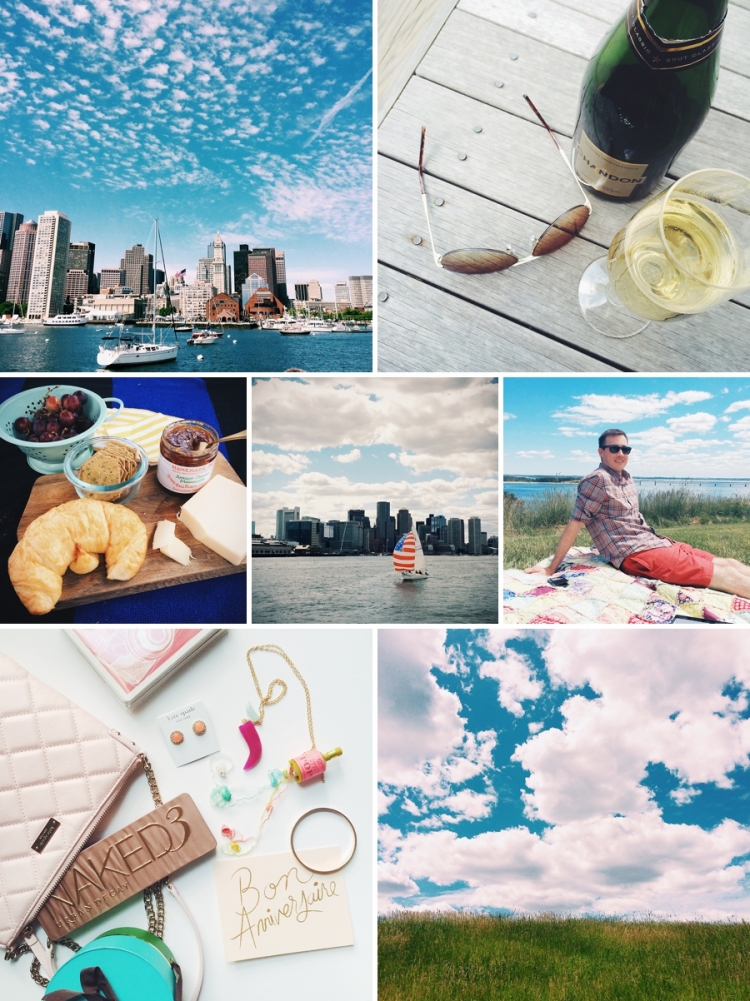 I had a seriously fun birthday couple of days with my friends and family. I had been wanting to go checkout the Boston Harbor Islands for at least 5 years- but I had never really looked into getting there. When I was deciding what to do for my birthday and it was supposed to be great weather I knew I had to be outside!  It was a simple 20 minute ferry ride over to Spectacle Island on a Boston Harbor Cruise boat – we sat up top and the ferry ride to and from may have been the highlight of my day- I just love the feeling of open air and the wind in my hair. SO FREE. Ever afraid of crowds I made my besties take a ferry on the early side for a Saturday morning so we could get there before lunchtime. We disembarked at Spectacle Island and took a short walk uphill to the South Summit. I pushed Jack in the stroller (you know you're getting old when there are babies at your birthday party)! We staked out a great spot overlooking the water with a gazebo and a picnic table and lots of space around us. If I had known how much space we would have had I would have brought some lawn games! We spent the day playing cards against humanity and feasting on picnic fare – cheese and crackers, fruit, brownies, and croissant sandwiches. I couldn't resist a bit of day drinking and toted along some mason jars with spiked blueberry mint fresh squeezed lemonade. The weather was amazing and the clouds looked like cotton candy.
That night we checked out the newest spot in Union Square – Brass Union. We had a great spot at the corner of the bar in the lounge area – Chris got to try out the shuffleboard table and a bunch of friends met us out for cocktails. A few of us tried some of the small plates – I had the grass-fed burger with cabot cheddar and onion jam (yum!) and Chris had the Choripan which was kind of like a hot dog. The highlight was the hand cut fries and Bernaise sauce – everyone knows the way to my heart is a good fry! I had a couple million proseccos.
And on Monday my actual birthday I met my Mum up in Concord, NH – somewhere in between where we both live. We had a lovely mexican lunch (also on the favorite foods shortlist are chips and guacamole) and then hit up the outlets for a bit of shopping. That night Chris took me out to Posto and we had the most fabulous goat cheese bruschettea. I ordered a cocktail called "Vespa" and I most recreate it immediately – Cucumber Vodka, Basil, Lime and Prosecco – so refreshing! And I got spoiled with birthday treats from family and friends – I'm one lucky birthday girl- officially in the 29 club and this year is going to be a great one!